Attention: Due to high demand all EyeScan models may experience increased processing time of 1 - 3 weeks. We apologize for any inconvenience and we will work diligently to ship all orders as quickly as possible.
The EyeScan 4000 Blue comes with calming blue lights for visual bilateral stimulation, basic alternating tone for auditory, includes tactile stimulation as well. This model comes complete with remote control, tripod, pulsers, headphones and A.C. adapter.
Features:
Blue lights for soothing eye-movement viewing

Easily adjust light brightness setting from remote control

Standard pulsers included

Optional Mega Pulsers available

Optional carrying case available

Backed by our Limited one-year Warranty!
Benefits:
Prevents clinician fatigue

Allows note-taking during EMDR administration

Lowers distractions for client

Accurately displays the number and speed of EMDR sets

Easily dismounted for transportation

Allows for diverse seating arrangements to maximize client comfort

Field tested by hundreds of EMDR clinicians
Improved EMDR administration
EyeScan™ Technology was developed to aid the clinician in the administration of Eye Movement Desensitization and Reprocessing (EMDR). With hands-free administration of EMDR, the clinician is better able to closely observe the client's behavior and take notes.

Previously administered by a repetitive hand technique, EMDR can now be performed with the aid of the EyeScan™ 2000S, EyeScan™ 4000, or the NEW EyeScan Deluxe eliminating clinician fatigue and improving the therapeutic process. Through extensive field testing by EMDR clinicians, these products have proven to be valuable and effective tools in the administration of EMDR.

Easy to control
The 24 scanning lights on these EyeScans™ can be controlled via the cordless hand held controller. The scan rate is easily adjusted and the clinician can select the alternating end lights only mode with a simple switch selection. The tripod allows easy positioning and client comfort. For diagonal eye movements, simply tilt the light bar to any desired angle.

Visual and audio stimulus
All EyeScan models come with both visual and auditory stimulation modes. For auditory stimulation simply plug the walkman style headphones into the EyeScan light bar. Your client hears a gentle tone in each ear as the light on each end illuminates. Further, incorporating multiple senses may enhance the EMDR process. The audio stimulus makes these EyeScan models excellent for clients with vision impairment or who have trouble with eye movements. Additionally, all EyeScan™ models can now operate from an internal 9 volt battery (not included) or you can plug it in with the included AC adapter.

A tactile stimulus now available.
The EyeScan™ 4000 and the New EyeScan Deluxe also incorporates built-in tactile stimulation. Simply plug the pulsers into the light-bar for synchronized tactile, auditory and visual stimulus or choose any combination of the three to suit each individual client's needs.
Choose standard pulsers or new Mega Pulsers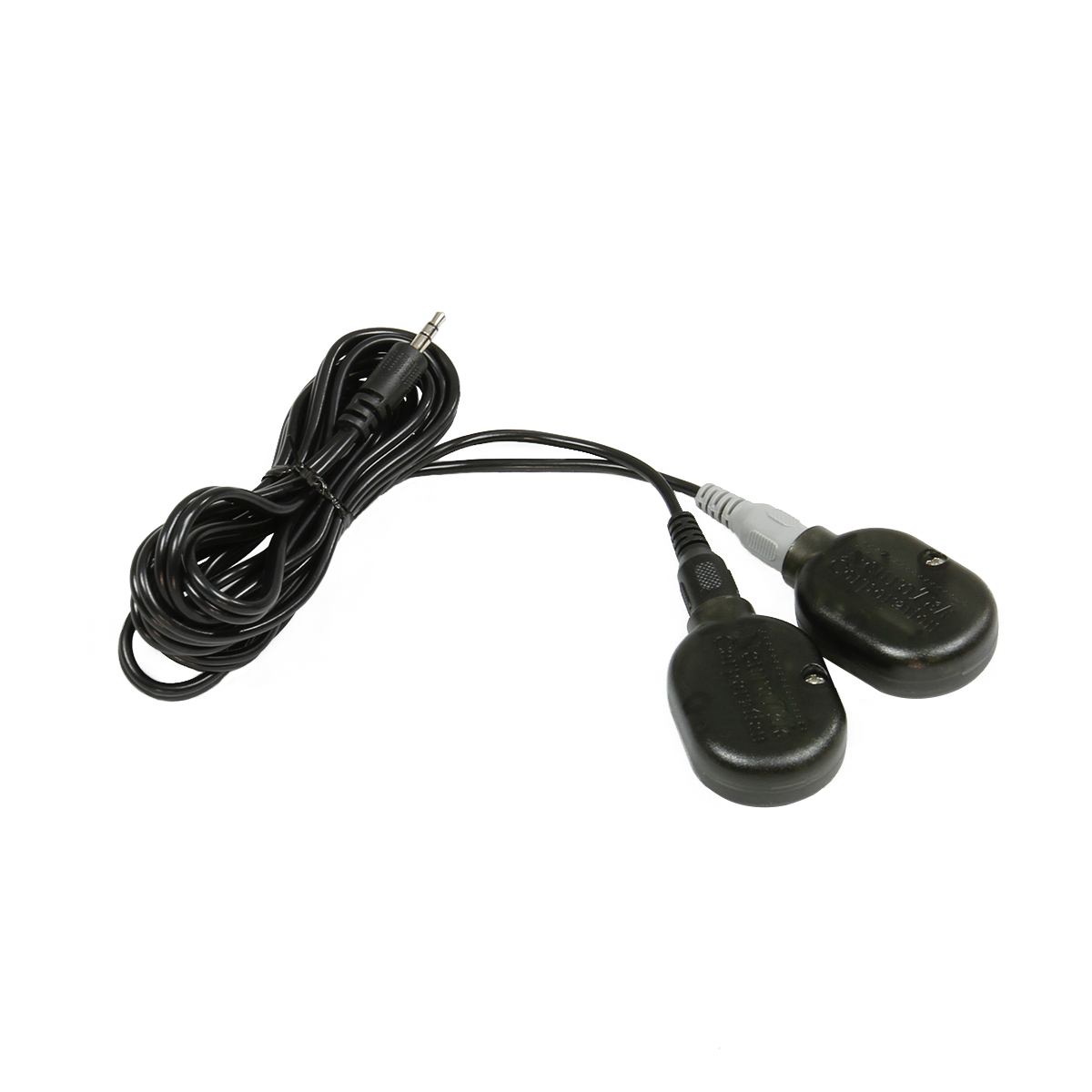 Mega Pulsers Vs Standard Pulsers
The Mega pulsers have orange lights in the end that activate when each pulser vibrates. The pods that are held in the hand are also slightly larger than the standard pulsers. The most important difference is that the Mega pulsers have detachable wires, allowing the Clinician to detach the pods and replace the wires when they wear out instead of having to replace the whole set of pulsers.
EyeScan Measurements: 31.5'' x 2'' x 2''
Tripod width at widest point when fully extended: 34.5''